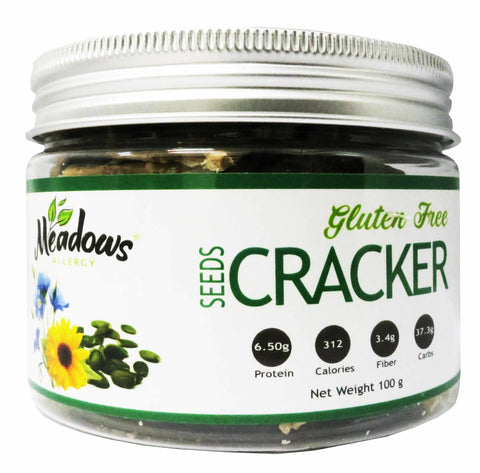 ---
Expiration Date: 2024-05-25
---
Weight: 100g
Product Description: These gluten-free Seed Crackers are an unbelievably healthy and super delicious alternative to high-calorie snacks. Containing a combination of sunflower seeds, pumpkin seeds and flax seeds, these crackers are a great source of fibre, protein and other nourishing antioxidants. A light and crispy snack, they can be had at any time of the day. They have been gently dehydrated to preserve their whole food goodness. They taste great when had with hummus dip.
Ingredients: Organic Sunflower Seeds (12.5%), Organic Flaxseeds (12.5%), Pumpkin Seeds (12.5%), Organic Sesame Seeds (10.5%), Chia Seeds, Olive Oil, Psyllium Husk, Common Salt.
Product Specifications
Description: The Gluten Free Seed Crackers from Meadows Organic containing flax seeds, pumpkin seeds and sunflower seeds.
Origin: UAE
---