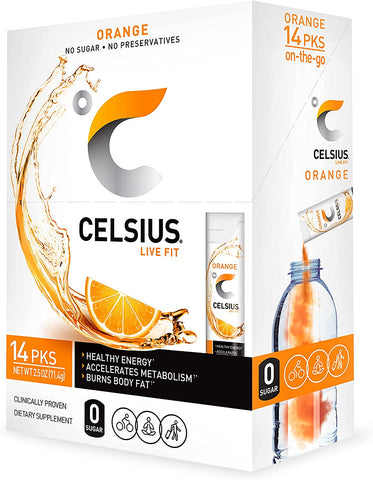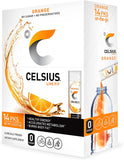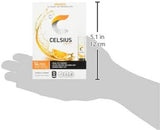 ---
Expiration Date: 2024-06-01
---
Weight: 74.2g (14Pcs)
Product Description: ELSIUS. Live Fit. A uniquely blended formula with healthy energy and key vitamins make CELSIUS an ideal pre-workout drink. It contains zero sugar, no aspartame, and no artificial flavors, colors, or preservatives. CELSIUS energy drinks are also made with Kosher and non-GMO ingredients. Its proprietary formula contains green tea extract and EGCG. It also includes guarana seed extract, ginger root for flavor and digestion, vitamin C to support your immune system, vitamin B for energy production, and chromium to help control hunger. Enjoy the refreshing combination of dragonfruit and lime anytime, anywhere with CELSIUS Dragonfruit Lime On-the-Go Powder Stick Packs! Just add one powder stick packet to 12-16 oz. of water and go! It has the perfect balance of flavor and energy that serves as an awesome pick-me-up for active lifestyles. One powder stick packet is equal to 1 can of CELSIUS. Each box comes with 14 powder stick packets.
Ingredients: VITAMIN B: B-Vitamins are essential for energy production and they help regulate cell health as well as metabolism. They also help support your adrenal glands to help you recover from fatigue.

VITAMIN C: Also known as an ascorbic acid, vitamin C is an essential nutrient that aids the immune system and helps with tissue repair and the enzymatic production of certain neurotransmitters.
CHROMIUM: Known to help control hunger, chromium is an essential trace mineral that normalizes blood sugar levels and helps enhance the metabolism of proteins, carbohydrates, and lipids.
---