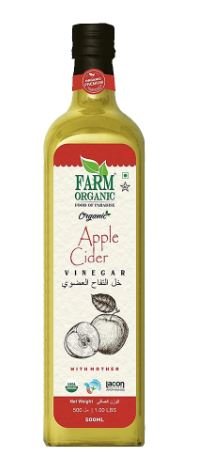 Regular price
Sale price
AED
28.44
35.55
---
Expiration Date: 2024-09-30
---
1 Piece = 500 ml
Organic apple cider vinegar with mother health benefits, such as: Aiding weight loss Reducing cholesterol Lowering blood sugar levels Improving the symptoms of diabetes.
What is Apple Cider Vinegar with "Mother"? The unfiltered and unrefined vinegar with a cloudy and murky appearance is called apple cider vinegar with "mother". It is used for drinking purposes and has many health benefits due to the presence of beneficial bacteria, yeast, and protein.
Nutritional Facts: Serving Size 15ML 33 Serving per Container Calories 7.7 % Daily Value Total Fat 0g 0% Saturated Fat 0g 0% Cholesterol 0mg 0% Sodium 0mg 0% Total Carbohydrate 1.89g 0% Dietary Fiber 0g 0% Sugar 0g Protein 0.04g 0% Vitamin A 0% Vitamin C 0% Calcium 0% Iron 0% Percent daily values are based on a 2,000 calories diet. 
Origin: India
---