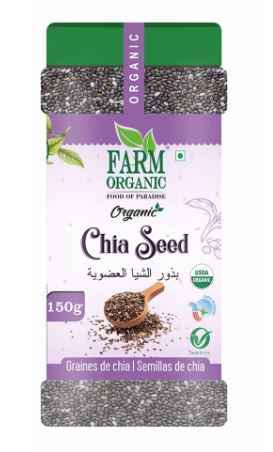 ---
Expiration Date: 2024-09-30
---
Weight: 150 grams
Product Description: Chia seeds are an excellent source of vitamins, minerals, and powerful antioxidants. Most of the fiber in chia seeds is soluble fiber. It absorbs water, becomes gel-like, and expands in your stomach to slow your digestion and help you feel full.
Chia Seeds may be small, but they're incredibly rich in nutrition. chia seeds contain antioxidants, minerals, fiber, and omega-3 fatty acids. Chia seeds promote heart health, support strong bones, and improve blood sugar management.
Nutritional Facts: Serving Size 1Tsp ( 12)g Amount Per Serving Calories 60 Total Fat 3g 5% Saturated Fat 0g 0% Cholesterol 0mg 0% Sodium 0mg 0% Total Carbohydrate 5g 2% Dietary Fiber 5g 20% Sugar 0g Calcium 8% Protein 3g 6% Iron 6% Vitamin A 0% Vitamin C 0% Percent daily values are based on a 2,000 calories diet. 
Origin: India
---