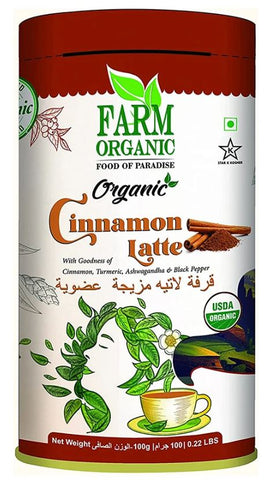 ---
Expiration Date: 2024-09-30
---
Weight: 100 grams
Product Description: This delicious hot drink is a real anti-inflammatory and antioxidant featuring organic cinnamon, cassia, turmeric 5%, black pepper, ginger, and tulsi. It is paleo, and dairy-free. Tulsi and ginger are used to cure fever, the common cold , and sore throat.
Cinnamon Latte is a combination of 5 herbs. Cassia cinnamon, Turmeric 5% black pepper, ginger, and tulsi, Cassia Cinnamon contains chemicals that seem to improve insulin sensitivity, which might help blood sugar control in people with diabetes. It also contains cinnamaldehyde. This chemical might help fight bacteria and fungi. Cassia cinnamon is a very common spice and flavoring agent in foods.
Preparation Information: Option to enjoy a latte, Shake and blend 400 ml (13.5 fl oz) brewed black coffee 2 tbsp sugar or honey as you desire 1-liter milk.
1. In a pot, add Cinnamon Latte
2. Place the pot over medium heat.
3. Stir the milk until it just starts to boil, then remove it from the stove.
4. Split the brewed black coffee among four mugs.
5. Top each of the mugs with the cinnamon milk mixture.
Serve & Enjoy.
Nutritional Facts Serving Size 100g Amount Per Serving Calories 398 % Daily Value Total Fat 7.64g 9.7% Saturated Fat 3.78g 19% Cholesterol 0mg 0% Sodium 260mg 11% Total Carbohydrate 69.23g 25% Dietary Fiber 14.26g 50% Sugar 3.60g Calcium 30% Protein 8.61g 17% Iron 8.5% Vitamin C 4% Percent daily values are based on a 2,000 calories diet.
Origin: India
---