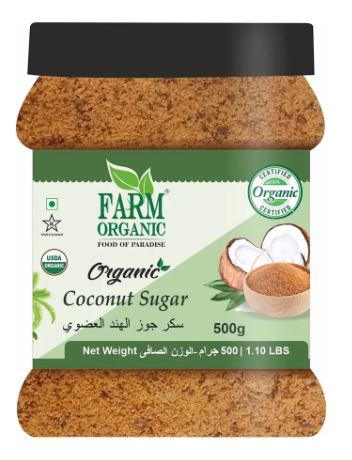 ---
Expiration Date: 2024-06-30
---
1 Piece = 500 grams
Offering a variety of Gluten-free Coconut Sugar, Organichub dxb is firmly committed to quality. Additionally, the freshness, high purity, tangy taste, and astonishingly long life of our range contribute to its recognition.

Coconut sugar is derived from the sap of the coconut palm, which is a natural source. Similar to how maple syrup flows through trees, this sap does the same. Farmers sever the flower-bud stem of the coconut palm tree to release the nectar and then collect the sap. After that, they combine the sap with water and reduce it to syrup to create coconut blossom nectar. The nectar is allowed to dry and crystallize before being processed to create farm organic gluten-free coconut sugar. 

Coconut sugar contains small amounts of minerals, antioxidants, and fiber. However, its high sugar content outweighs any potential benefits. Low glycemic index. Relatively high in nutrients. 
Nutritional Facts: Serving Size 1Tbs 8g Amount Per Serving Calories 30 % Daily Value Total Fat 0g 0% Saturated Fat 0g 0% Cholesterol 0mg 0% Sodium 10mg 0% Total Carbohydrate 7g 3% Dietary Fiber 1g 0% Sugar 7g Calcium 1% Protein 9g 0% Iron 0% Vitamin D 0% Percent daily values are based on a 2,000 calories diet. Your daily values may be higher or lower depending on your calories needs.

Origin: India
---