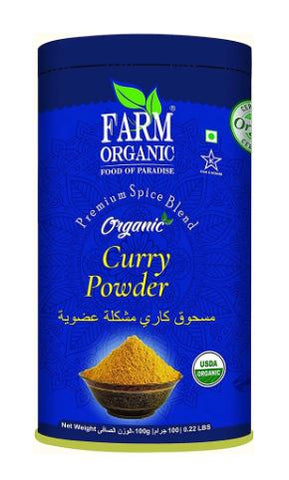 ---
Expiration Date: 2024-09-30
---
Weight: 100 grams
Product Description: Curry powder is a mixture of spices that take on a yellow hue. contrary to popular belief, it is not a staple ingredient in Indian cooking. Curry powder combines both sweet and savory elements, creating a spice powder that is earthy and warm.
Curry powder is a spice mix originating from the Indian Subcontinent. Key ingredients of curry powder such as ginger, garlic, and turmeric have been in use for over 4000 years,  at least since the Indus Valley Civilization. Curry powder is comparable to the traditional Indian concoction of spices known as garam masala. Curry powder can be used to season roasted vegetables, pureed soups, hummus, egg, salad, and even popcorn. It will give an ordinary recipe a touch of warmth and depth.
Nutritional Facts: Serving Size 25g Amount Per Serving Calories 342 % Daily Value Total Fat 10.1g 15.53% Saturates Fat 0.7g 3.5% Cholesterol 0mg 0% Sodium 47.6mg 1.98% Total Carbohydrate 61g 17.1% Dietary Fiber 19.2g 76.8% Sugar1.17g Calcium 26.80% Protein 11.6g Iron 148.44% Vitamin C 27.10%.
Origin: India

---