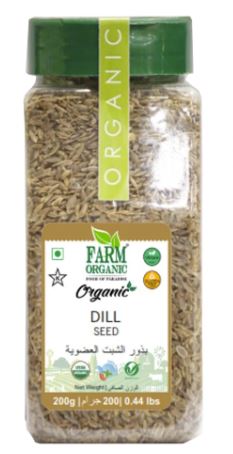 ---
Expiration Date: 2024-09-30
---
Weight: 200 grams
Product Description: Dill seeds also known as Sowa in Hindi, are a herb that not only adds flavor to your food but also helps keep you healthy. A special ingredient among Indian curries and dill seeds are mainly used for the tangy and appetizing flavor.

Dill seed is an ancient Indian spice. Its seeds, seed oil, and the whole plant are used in Indian cuisine. It is mainly used in digestive disorders. It is also called Indian Dill. Botanical name: Anethum Sowa.
You can use dill seeds in many ways Mixed with Greek yogurt, cucumber, lemon, and garlic to make tzatziki Roasted in the oven with carrots and olive oil Used as a spice to pickle eggs Sprinkled on salmon with butter and lemon Mixed into an herb butter sauce and dolloped on sweet potatoes Used in a relish to pair with any whitefish.

Nutritional Facts: Portion Size 100g Amount Per Portion Calories 305 % Daily Value Total Fat 15g 19% Saturated Fat 0.7g 4% Sodium 20mg 1% Total Carbohydrate 55g 20% Dietary Fiber 21g 75% Protein 16g 32% Vitamin D 0mcg 0% Calcium 1516mg 117% Iron 16mg 89% Potassium 1186mg 25% The % Daily Values tells you how much a nutrient in a serving of food contributes to a daily diet.

Origin: India
---