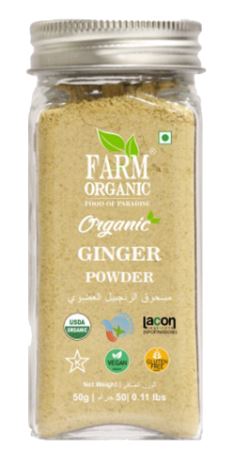 ---
Expiration Date: 2025-02-28
---
Weight: 70 grams
Product Description: Ginger root or ginger is one of the healthiest and most vigorous spices. Loaded with natural oils, bioactive compounds, and nutrients, the Organic ginger powder is a supreme quality dry ginger powder. Besides adding a touch of warmth and flavor to yo

Organic Ginger has to be the healthiest and most flavorful spice in the whole world. Fresh ginger is known as adrak in Hindi, and dry ginger powder is known as 'Sonth' in Hindi, Sonti' in Telugu, 'Sonth' in Bengali, and 'Soonth' in Gujarati.  The dry ginger powder comes from fresh ginger roots that are dried. It is a well-made off White Brownish powder that possesses a sharp flavor and a distinct aroma with its excellent culinary uses, the dry ginger (sonth) powder works wonderfully in curing health excellent ailments. Let's find out below the health benefits of dry ginger powder.
Dry ginger powder is utilized as a spice in curries, gravies, and marinades. dry ginger powder is widely used to add flavor to, gingerbread. Added along with turmeric, and cinnamon and used to flavor ginger cookies and candies. cloves one can make ginger tea. Used in marinades for tandoori starters

Nutritional Facts: Serving Size 100g Amount Per Serving Calories 23 % Daily Value Total Fat 05g 0% Saturated Fat 0g 0% Cholesterol 0mg 0% Sodium 46mg 1% Total Carbohydrate 3.7g 1% Dietary Fiber 2.8g 1% Sugar 0g Protein 2.1g 20% vitamin A 134% Calcium 6% Iron 9% Vitamin C 45% The % Daily Value tells you how much a nutrient in a serving of food contributes to a daily diet.
Origin: India

---