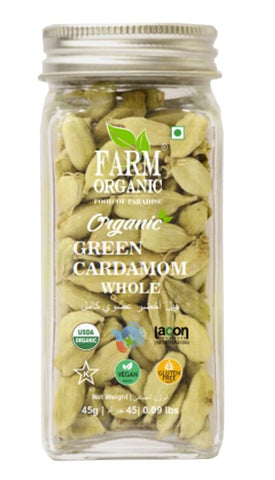 Regular price
Sale price
AED
25.21
31.52
---
Expiration Date: 2024-09-30
---
Weight: 45 grams
Product Description: Special to Indian taste buds, cardamom is not unique to our land but also to our senses. Farm Organic cardamom is a fragrant spice that adds layers of taste to your tea, food, and overall experience of food. Prized for different health and heal.

Cardamom comes is the firm, unripe dry fruit that contains about a dozen seeds. Cardamom is considered to be one of the world's oldest spices. It is often called the 'queen of spices' alongside the 'king of spices, black pepper, It's sold as a pod whole or crushed, as whole seeds referred to as dry cardamom or as ground seeds. Most often, recipes call for the whole or ground seeds rather than the full pod and cardamom intensifies the savory and sweet flavors.
Cardamom is used to spice both sweet and savory dishes. It is widely used in Indian, Middle Eastern, Arabic, and Swedish cuisine. It comes in two types and is used as whole pods, Cardamom is found in the garam masala spice mixture that seasons meat and vegetable dishes, and in hot beverages such as masala tea and Turkish coffee. 

Nutritional Facts: Serving Size 1tsp 2g Amount Per Serving Calories 5 % Daily Value Total Fat 0g 0% Saturated Fat 0.01g 0% Cholesterol 0mg 0% Sodium 0mg 0% Total Carbohydrate 1g 0% Dietary Fiber 1g 100% Sugar 0g Protein 0g vitamin D 0% Calcium 0% Iron 2% Potassium 0% The % Daily Value tells you how much a nutrient in a serving of food contributes to a daily diet. 
Origin: India
---