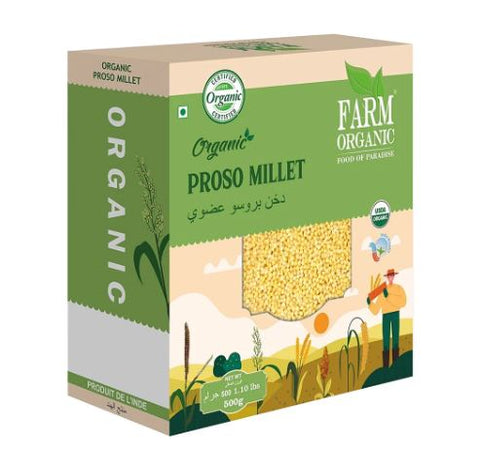 ---
Expiration Date: 2024-10-24
---
Weight:  500 grams
Product Description: Proso millet is rich in magnesium which helps to lower the blood pressure and also decreases the chances of strokes, heart attacks and atherosclerosis. It is a good source of potassium which helps to maintain low blood pressure.

Proso millet has high anti-oxidant. They remove free – radicals from the body. Free – radicals are the reasons for wrinkles on the skin, complexion loss, etc. If you add proso millet to your diet it'll help you delay the aging process. A high amount of lecithin is present in the proso millet. It is a compound that indirectly affects the nervous system and keeps it functioning smoothly.
Nutritional Facts: Serving Size 100g Amount Per Serving Calories 328 Total Fat 1g 2% Saturate Fat 1g 6% Cholesterol 0mg 0% Sodium 11mg 0% Total Carbohydrate 72g 2% Dietary Fiber 14.6g 52% Sugar 0g Protein 7g 14% Vitamin A 0% Vitamin C 0% Calcium 344mg 34% Iron 22% Percent daily values are based on a 2,000 calories diet. 
Origin: India
---