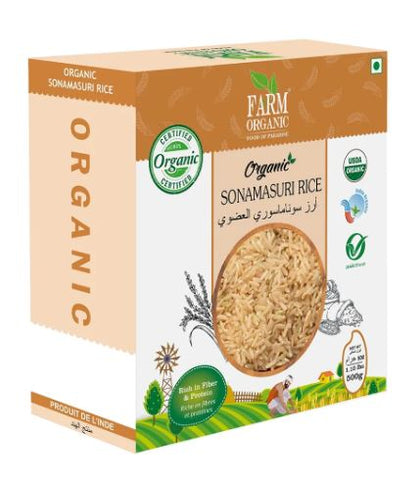 Regular price
Sale price
AED
15.34
19.18
---
Expiration Date: 2025-02-28
---
1 Piece = 500 grams
Rice is a staple food in Indian households. With thousands of rice varieties grown in Indian paddy fields, sonamasuri rice is one of the most popular ones. Used to prepare delicious like sweet Pongal, idli, pulao, and more.
Sona Mahsuri is a lightweight and aromatic medium-grain rice that is the result of a cross combination of the rice varieties Sona and Mahsuri. It is grown largely in the Indian State of Andhra Pradesh, Telangana, and Karnataka, and used primarily in South Indian cuisine.
Nutritional Facts: Serving Size 100 Amount Per Serving Calories 403 % Daily Value Total Fat 2.0g 2.5% Saturated Fat 0g 0% Cholesterol 0mg 0% Sodium 0mg 0% Total Carbohydrate 79.0g 0% Dietary Fiber 0g 49% Sugar 0g Protein 6.7g 13% Vitamin A 0% Vitamin C 0% Calcium 0mg 0% Iron 0mg 0%.
Origin: India
---