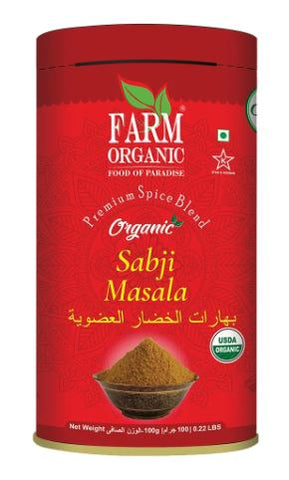 Regular price
Sale price
AED
9.69
12.11
---
Expiration Date: 2024-09-30
---
Weight: 100 grams
Product Description: Sabji Masala means vegetable masala brings a new element and taste in your food. Make your food more delicious tasty and yummy with this sabji masala which comes from the house of Farm Organic the world's finest Spices.
Sabji masalas and powdered spices are the backbones of Indian cuisine. And we Indians pride ourselves in the power of these humble homemade spices to instantly zhuzh up any meal. Our everyday basic Indian thali consists of at least a curry and dal accompanied by rice or roti. Having this same set and almost similar kinds of curries every day may get repetitive, By adding just a pinch of simple garam masala powder to the sabji or some sizzling tadka to the dal, the food instantly becomes flavorful and tempting. Keeping this in mind; we bring for you a multipurpose sabji masala that will enhance the taste of your everyday food.
Nutritional Facts: Serving Size 5g Amount Per Serving Calories 20 % Daily Value Total Fat 0.5g 1% Saturated Fat 0g 0% Cholesterol 0mg 0% Sodium 20mg 1% Total Carbohydrate 2g 1% Dietary Fiber 1.25g 3% Sugar 0g Calcium 0mg 0% Protein 0.5g 1% Iron 0% Percent daily values are based on a 2,000 calories diet. 
Origin: India

---