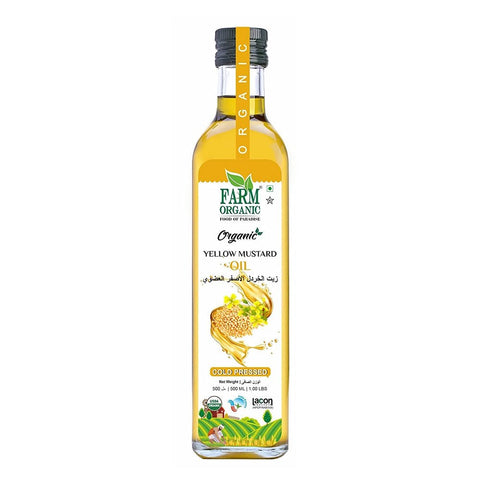 ---
Expiration Date: 2025-02-15
---
Weight: 500 ml
Product Discerptions: Our Farm Organic Gluten-Free Yellow Mustard Oil is twice filtered and refined to improve its natural flavour and is made from the highest quality mustard seeds obtained from farms that are certified organic. Since ancient times, organic mustard oil has been used in cooking and as medicine. This oil, which is made from mustard seeds, has a distinctive nutty flavour and offers a wide range of health advantages.

Gluten Free Mustard Oil
MUFA, PUFA, Omega 3 & 6, Vitamin E, minerals, and anti-oxidants are all abundant in Gluten-Free Mustard Oil, which also has powerful anti-microbial and anti-inflammatory properties. It lessens the risk of cancer and enhances heart health. When used topically, mustard oil is regarded as a natural sunscreen due to its thick viscosity and high vitamin E concentration.

By activating the sweat glands, it also functions as a natural cleaner by opening skin pores. Mustard oil massages are believed to reduce pigmentation spots and enhance skin tone. By nourishing the scalp with important fatty acids and protecting it from dandruff and fungal infections, mustard oil moisturises and revitalises the hair. When used both orally and externally, mustard oil has antimicrobial properties.

Our whole staff of professionals is committed to creating, gathering, and providing the highest calibre goods. For clients to discover the finest, we maintain our rates competitive and reasonable. Additionally, all of our items are offered in various customizable packaging ranging in size from little to large. We now completely allow our customers to place orders based on their needs.


Origin: India 
---