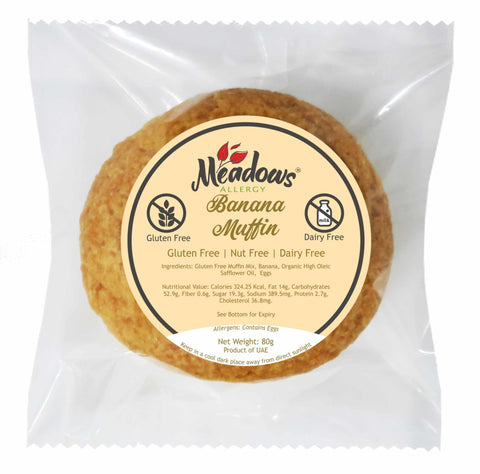 ---
Expiration Date: 2024-10-29
---
1 Piece = 80 grams
Treat yourself with a delicious sweet without putting weight on your waist with this Meadows Organic Banana Muffin. The muffin is made using all gluten-free ingredients and is baked to perfection. The soft and spongy texture will be appreciated by everyone, be it kids or adults. Have it with whipped cream, a cup of coffee, tea or milk to fully enjoy the taste and again the necessary nutrition!
Ingredients: Wholemeal Wheat Flour, Unbleached Wheat Flour, Organic Brown Rice Milk (Sunflower Seed Oil), Banana, Raw Cane Sugar, Canola Oil, Organic Apple Puree, Organic Apple Cider.
Product Specifications
Description: Scrumptious Meadows Organic Banana Muffins with gluten free ingredients rich in fibre.
Origin: UAE
---