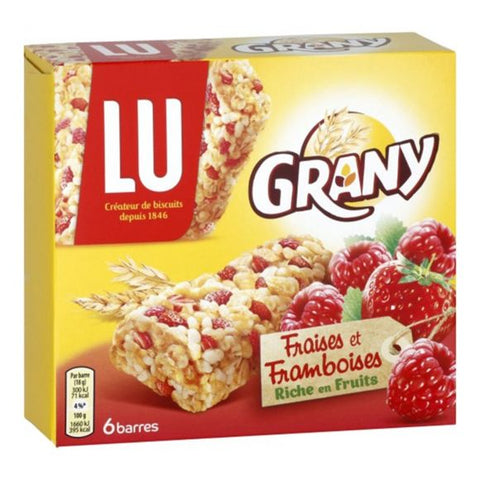 ---
Expiration Date: 2023-09-30
---
1 Packet = 6X108g
Product Description: Have all the enjoyment of these delicious bars without any guilt because they contains a mixture of different cereals. These cereals are totally capable of providing your body with impressive health benefits and energy for the day. Besides this, the bars have an exotic flavour of strawberry and raspberry that gives these healthy bars a unique and wonderful taste. You can have these bars while on your way to work or they can be treated as a perfect breakfast.
Ingredients: Cereals 48.6% (corn kernels 16.3%, wheat flakes 8.9%, oat flakes 8.2%, rice flour 5.8%, malted rye flakes 5.5%, wheat flour 3 , 5%, malted wheat flour 0.4%), glucose syrup, stabilizer (sorbitol), vegetable oils (rapeseed, palm), dehydrated raspberries 2.5% (raspberry equivalent 15.3%), dehydrated strawberries 1, 2% (strawberry equivalent 11.2%), salt, sugar, malted barley syrup, gluten (wheat), dextrose, aroma, emulsifiers (E473, sunflower lecithin), acidity corrector (citric acid).
Product Specifications
Description: Tasty and healthy breakfast is the preference of almost everyone out there. The strawberry and raspberry cereal bars can be an ideal pick for the same.
Origin: France
---