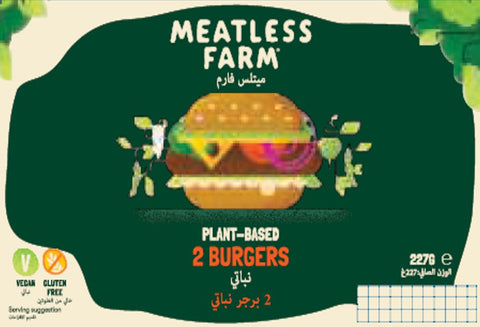 ---
Expiration Date: 2024-06-15
---
Weight: 227g
Product Description: 
Our plant-based burgers make it easy to reduce your meat consumption – either simply fry or barbecue, then add toppings to create your favourite burger. Now with a new and improved recipe, with no soy!
Nothing beats a juicy burger full of taste and texture. Ours is no different, it's just made from delicious plant-based ingredients. Our burgers are perfect for a quick midweek meal, or for cooking up on the barbecue when the sun is shining.
Our new and improved burger recipe is made using our signature mix of pea protein and the finest plant-based ingredients, with no soy!
100% plant-based
Vegan
Rich in protein
Available chilled


ingredients: Water, pea protein (19%), rapeseed oil, shea oil, Thickener: methyl cellulose, coconut oil, rice protein, pea fibre, yeast extracts, caramelised carrot concentrate, fruit and vegetable extracts (beetroot, radish, tomato), natural flavourings, potato fiber, potato starch, salt, ground black pepper, carrot concentrate, smoked water, Acidity Regulator: ascorbic acid
---