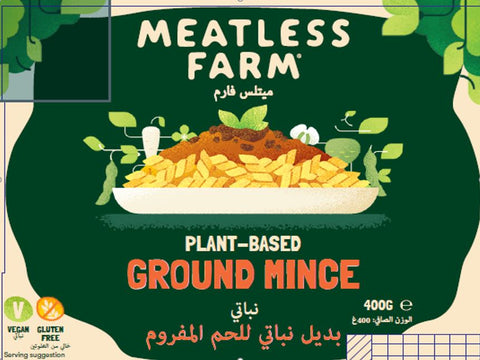 ---
Expiration Date: 2024-06-30
---
Weight: 400g
Product Description: Our fresh plant-based mince is a great meat replacement in family favourite recipes such as chilli, Bolognese, lasagne and more!
Our delicious plant-based mince makes it easy to reduce your meat intake. Our meat-free mince looks, cooks and tastes like beef mince, making it simple to swap in to your favourite family recipes.
Now with a new and improved recipe using our signature mix of pea, rice and soya protein, our mince is packed full of taste and texture.
100% plant-based
Vegan
Rich in protein
Available chilled
ingredients: Water, pea protein (19%), soya protein concentrate (19%), rapeseed oil, soya protein isolate (5%), pea protein (4.5%), chicory root fibre, Thickener: methyl cellulose, natural flavourings, vegetable extracts (beetroot, radish, tomato), caramelized carrot concentrate, carrot fibre, rice protein, yeast extracts, carrot concentrate, Emulsifier: soya lecithin, Acidity regulator: ascorbic acid, salt, vitamins and minerals (niacin, zinc, iron, vitamin B6, vitamin B2, vitamin b1, vitamin B12)
---