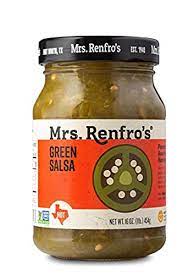 ---
Expiration Date: 2024-09-27
---
Weight: 454g
Product Description:
Tangy and hot, this distinctive salsa verde is all about the jalapeno! From eggs to enchiladas, it adds a spicy kick to whatever you're cooking up – even Mexican Fudge. Mrs. Renfro's Heat Level: Hot. Authentic gourmet salsas and sauces are created to bring a variety of deliciously fresh ideas and flavors to your family table.
Ingredients: 
Jalapeño Peppers, Water, Distilled Vinegar, Corn Starch, Salt, Dried Onion, Spices, Dried Garlic.
---