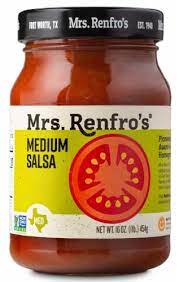 ---
Expiration Date: 2024-09-27
---
Weight: 454g
Product Description:
This deliciously satisfying salsa is as versatile as it is flavorful. From the chip bowl to taco night to a soup pot of Farmer's Gumbo, it's a tried-and-true favorite. Authentic gourmet salsas and sauces created to bring a variety of deliciously fresh ideas and flavors to your family table.
Ingredients: 
Tomatoes, Water, Tomato Juice, Green Chile Peppers,
Sweet Green Peppers, Distilled Vinegar, Jalapeño Peppers, Corn Starch, Salt, Dried Onion, Dried Garlic, Spices, Dried Cilantro.
---