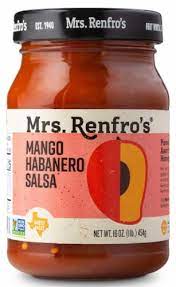 ---
Expiration Date: 2024-09-26
---
Weight: 454g
Product Description: 
Escape from every day with this fruity and hot salsa. Try marinating salmon in our Mango Habanero Salsa and serve with coleslaw for Mango Habanero Salmon Tacos. This mango habanero salsa is just 15 calories per serving so there is so need to worry about overindulging. 
Ingredients: 
Tomatoes, Water, Mango Puree, Mango, Tomato Juice, Green Chile Peppers, Brown Sugar, Pineapple Juice, Jalapeño Peppers, Distilled Vinegar, Corn Starch, Salt, Dried Onions, Dried Garlic, Spices, Dried Habanero Peppers, Dried Cilantro.
---