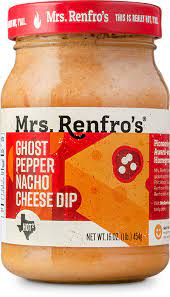 ---
Expiration Date: 2024-09-15
---
Weight: 454g
Product Description:
This gluten-free cheese dip is spiced with Bhut Jolokia, the Ghost Pepper one of the hottest peppers in the world. NO GLUTEN, NO HFCS, NO ADDED SUGAR. This cheese dip is gluten-free with zero high-fructose corn syrup. Just cheesy hot goodness. BEST ENJOYED HOT. Well, it's already spicy hot. But it's even better if you make it temperature hot, too. Poor it in a bowl pop it in the microwave for one minute (stopping halfway through to stir).
Ingredients: 
Water, Dried Cheese Mix (Corn Starch, Maltodextrin, Dextrose, Salt, Whey
Protein Concentrate, Inactive Dry Yeast, Cheese Flavor, Xanthan Gum, Enzyme- Modified Soy Lecithin, Annatto & Paprika Extracts as Color, Gum Arabic, Spices), Tomato, Onion, Tomato Juice, Green Chile Peppers, Sweet Red Peppers, Sweet Green Peppers, Cheese Flavor (Cheese Flavor, Mozzarella Cheese [Pa_ Skim Low-Fat Milk, Cultures, Salt, Enzymes], Sodium Citrate, Xanthan. Gum, Salt, Cheddar Cheese [Pasteurized Milk, Cultures, Salt, Enzymes]), Canola Oil, Palm Oil, Coconut Oil, Jalapeño Peppers, Gluconic Acid, Natural Flavor, Tomato Puree, Dried Ghost Pepper, Guajillo Chile Powder, Dried Garlic, Dried Chipotle Pepper, Ancho Chile Powder, Acetic Acid.
---