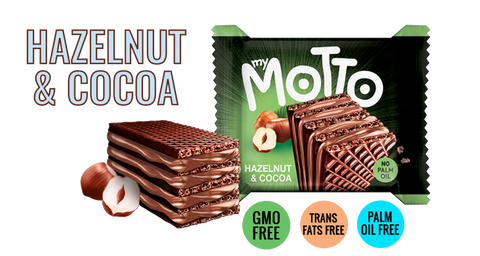 ---
Expiration Date: 2024-02-20
---
Weight: 34g

Product Description: My Motto is an unusual wafer with a palm oil free recipe containing plenty of cream, aerated to a light and delicate texture for better taste. The unique technology of cream preparation ensures the feeling of melting in the mouth and an explosion of flavours. The cream to shell ratio is 80% to 20% in favor of the cream.
Only natural raw ingredients from leading manufacturers are used, such as specially selected hazelnut paste and high-quality cocoa. Artificial colors are taboo, and traditional palm oil has been replaced with coconut oil.
Ingredients: SUGAR, WHEAT FLOUR, FULLY HYDROGENATED COCONUT FAT, COCONUT FAT, WHEY POWDER, COCOA POWDER 5%, COCOA MASS, DEXTROSE, HAZELNUT PASTE 0.8%, SKIMMED MILK POWDER, EMULSIFIER: SOYA LECITHIN; FLAVOURINGS: HAZELNUT, CHOCOLATE, ETHYL VANILLIN, RAISING AGENT: SODIUM HYDROGEN CARBONATE; SUNFLOWER OIL, SALT.
---