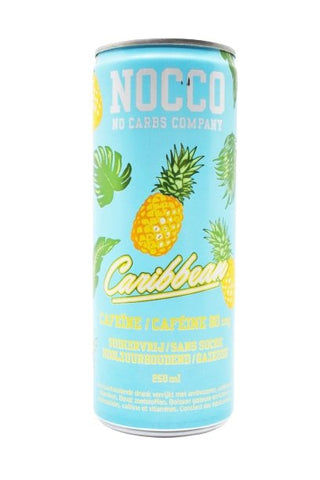 ---
Expiration Date: 2024-02-28
---
Weight: 250ml
Product Description: NOCCO - The No Carbs Company - has created an awesome array of ready-to-drink, grab-and-go, BCAA and CAFFEINE sugar-free drinks, ready to fuel your workout and now in the Caribbean flavour, now it can feel like summer ALL year round!!
Super-hydrating, super-refreshing and SUPER tasty!! Packed FULL of BCAA's in 4:1:1 ratio!! Contains NO CARBS, No sugar BUT 180mg caffeine!! Pre OR Post-workout whether needing to restore energy levels or help recover muscles do BOTH at the same time with CARIBBEAN flavoured NOCCO!!
A super tropical flavour, bring back holiday nostalgia, bring back summer vibes, containing 6 different vitamins from Vitamin B3 to Vitamin D!! L-carnitine, and green tea!! NOCCO has ALL the benefits!!
Ingredients: Carbonated water, branched-chain amino acids BCAA (L-leucine, L-valine, L-isoleucine), taurine, L-carnitine, L-tartrate, glucuronolactone, caffeine, green tea, vitamins (folic acid, biotin, niacin, B6, B12, D3), acidity regulators (citric acid, sodium citrate, flavouring (Citrus/Elderflower), sweetener (sucralose), colouring (beta carotene)
---