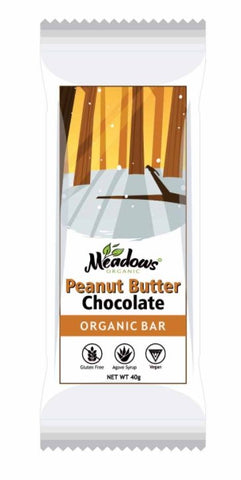 ---
Expiration Date: 2024-03-02
---
1 Piece = 40 grams
Made with a delicious layer of chocolate, this Meadows Organic Peanut Butter Bar is all you need to keep yourself energized throughout the day. The high protein content also makes it a great pre and post workout diet while the sweet and nutty taste makes it an enjoyable snack for everybody. You can eat it on-the-go or in breakfast to get the energy you need before a hectic day. All ingredients used in it are gluten free and organic.
Ingredients: Protein Blend (Calcium Caseinate, Whey Protein Isolate, Soy Protein Isolate), Coating (Maltitol, Cocoa Butter, Chocolate Liquor, Sodium Caseinate, Milk Fat, Soy Lecithin, Natural Flavours, Salt), Glycerine, Maltitol, Peanut Butter (ground peanuts, Sea Salt), Water, Cocoa Butter, Peanut Flour, Natural Flavours, Soy Lecithin, Sea Salt.
Product Specifications
Description: Chocolate coated Peanut Butter Bar from Meadows Organic with high protein content and a deliciously sweet flavour.
Origin: UAE
---