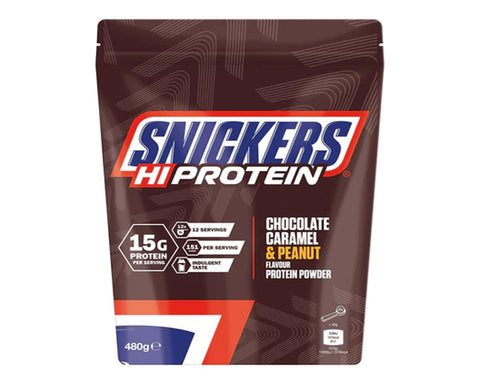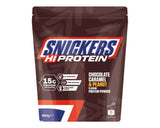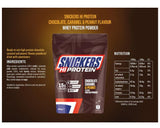 Regular price
Sale price
AED
80.99
160
---
Expiration Date: 2024-07-11
---
Weight: 480g
Product Description: 
If you are someone who loves yourself a good Snickers bar, you are going to be ecstatic about what's in store about for you now. Snickers Hi-Protein chocolate, caramel & peanut flavor whey protein powder offers some of the highest quality protein out there and tastes – well, like that Snickers bar you've come to love.
Lower in calories than the popular Snickers bar, with only 3.7 grams of sugar and 3.5 grams of fat per serving, but with a respectable 20.9 grams of protein per 35 grams of powder. Each serving provides only 141 kcal, so it can be taken at any time of the day to increase the protein content of your diet. The high protein content makes it ideal to use after a workout to promote muscle repair and growth.
Helps enrich the diet with protein
Promotes muscle repair after exercise
Curbs cravings for unhealthy sweets.
Ingredients: 
Ingredients: Whey Protein Concentrate (34%) (MILK), Skimmed MILK Powder, Maltodextrin, Reduced Fat Cocoa Powder (13%), Malt BARLEY Extract, Thickeners (Guar Gum, Xanthan Gum), Refined Coconut Oil (2%), Flavourings, Sweeteners (Acesulfame K, Sucralose). May Contain: SOYA and EGGS.
For allergens, see ingredients in uppercase.
Regulated Name: Ready to mix high protein chocolate, caramel and peanut flavour powdered drink with sweeteners.
---