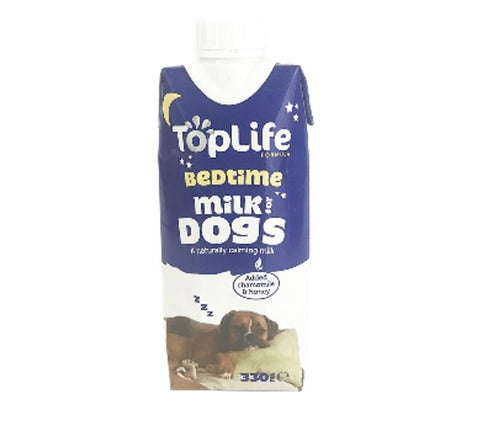 ---
Expiration Date: 2023-11-01
---
Weight: 330ml
Product Description: Bedtime Milk for Dogs is a delicious, calming treat – either straight from the carton, or gently warmed.

The added chamomile and honey is aimed at soothing dogs over 12 months old. Toplife Bedtime Milk can become part of your dog's routine to aid a good night's sleep, or during stressful situations to help calm your dog.

The original TopLife Formula of highly digestible goats' milk has been used and recommended by breeders for years. Dogs love milk but can sometimes have problems digesting cows' milk. Goats' milk is different. The fat globules found in goats' milk are typically smaller than those found in other animal milks, making them easier to 'break down' and digest in the gut. As with all TopLife products, Bedtime Milk for Dogs contains no artificial ingredients, colours, flavours or preservatives.
Ingredients: Goats' Milk, Honey (1%), Barley Malt Extract (1%), Chamomile (0.0005%)


---