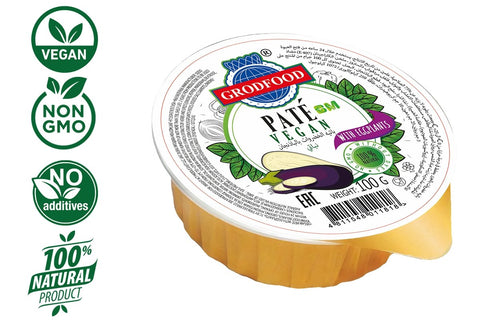 Regular price
Sale price
AED
4.93
9.96
---
Expiration Date: 2024-01-12
---
Weight: 100g
Product Description: Vegan Paté with natural eggplant dice is a source of nutrients necessary for a balanced diet. Vegan Paté is produced 100% from natural vegetables, fruits, and berries without additives that mimic the taste.
Boasting a variety of delicious tastes, Vegan Paté is a perfect healthy snack containing all nine essential amino acids without any cholesterol.
Ingredients: Drinking water, sunflower oil, soybean protein, potato starch, extracts of herbs and spices (onions, pepper, marjoram), dextrose, thickener: carrageenan (E 407), antioxidant (ascorbic acid, sodium isoascorbate), yeast extract), corn starch, eggplants pieces, iodized salt, carrots, onions.
---