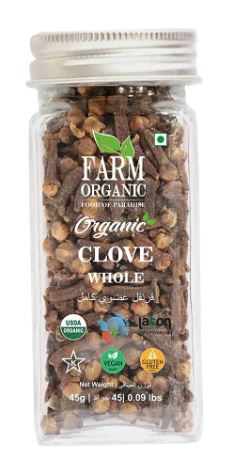 ---
Expiration Date: 2024-07-31
---
Weight: 50 grams
Product Description: Taking clove and dry ginger gives relief to toothache. Relief in respiratory problems Drinking a decoction of clove and dry ginger is very beneficial for respiratory problems. By eating dry ginger, clove and honey mixed, you get relief.
Cloves are grown in India and Madagascar, but Indonesia is most closely associated with the production of cloves. Indeed, so lucrative was the clove trade originating in an island chain once known as the Spice Islands. Cloves are a spice made from the flower buds of an evergreen tree called, appropriately enough, the clove tree Syzygium aromaticum. Clove flower buds are harvested in their immature state and then dried. Whole cloves are shaped like a small, reddish-brown spike, usually around 1 centimeter in length, with a bulbous top. Cloves can be used whole or ground, and they have a very strong, pungent flavor and aroma.
Nutritional Facts: Serving Size 100g Amount Per Serving Calories 247 % Daily Value Total Fat 13g 20% Saturated Fat 4g 20% Cholesterol 0mg 0% Sodium 277mg 11% Total Carbohydrate 66g 22% Dietary Fiber 34g 136% Sugar 0g Protein 6g 8% Vitamin A 3% Calcium 63% Iron 65% Potassium 1020mg 29% The % Daily Value tells you how much a nutrient.
Origin: India
---