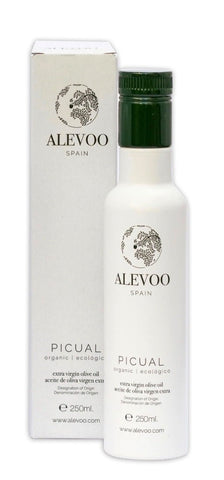 ---
Expiration Date: 2024-11-30
---
1 Pack = 250 ml
Spanish Premium Organic Extra Virgin Olive Oil with protected designation of origin (PDO) and organic certificate from Andalusia (Spain). It is made from olive fruit grown ecologically without any use of chemical products, bursting with natural freshness.
This full-bodied and well-balanced Picual Organic Extra Virgin Olive Oil has hints of spiciness and bitterness and an intense fruity flavor. It contains all the antioxidants and bioactive compounds beneficial to our health, high amount of powerful natural antioxidants such as polyphenols and Vitamin E, is rich in Vitamins A, D and K, and in fatty acids, being the predominant (73%) a monounsaturated fat called oleic acid, which is extremely healthy.
Product Specifications
Description: Organic Picual Extra Virgin Olive Oil from Alevoo offering multiple health benefits and varied culinary options in both vegetarian and non-vegetarian foods.
Origin:
Spain
---