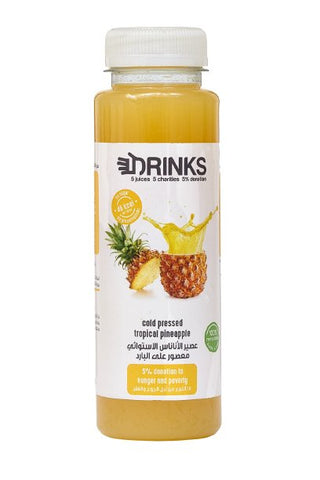 ---
Expiration Date: 2024-01-21
---
Weight: 250ml
Product Description:
Why cold-pressed? Regular juices, even if gently pasteurized, are cooked to 74 degrees centigrade to kill any bacteria – but the process also reduces the nutritional value. Instead, the process of cold-pressing simply inactivates the bacteria for four to five days, keeping all the vitamins and minerals intact.
Energy : 194 KJ (46 kcal)
Fat : 0.02g
of which saturated : 0.0g
Carbohydrate : 10.8g
of which sugars :10.5g
Fibers : 0g
Protein : 0.4g
Salt : 0.0g
Vitamin C: 9mg t. 
Ingredients: Pineapple 75%, apple juice 25%, pineapple puree 25%, antioxident: vitamin C.
---