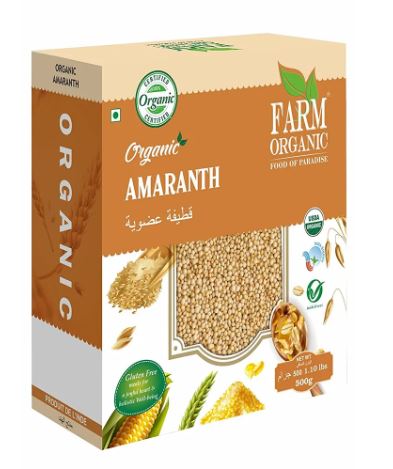 ---
Expiration Date: 2025-02-15
---
Weight:  500 grams
Product Description: Amaranth whole is a good source of fiber, protein manganese magnesium, phosphorus, and iron with several other important micronutrients. It contains antioxidants, eating Amaranth whole could reduce inflammation and may lower cholesterol level.
Organic Amaranth is a high protein seed, amaranth was a dietary staple used by the ancient Aztecs and Mayans. But the word amaranth comes from the Greek word amaranths meaning unfading flower or one that does not winter due to the flower keeping its vibrant color well after it is dried. Amaranth grain is high in protein and lysine, an amino acid found in low quantities in other grains. Amaranth whole is free of gluten, which makes it a viable grain for people with gluten intolerance.
Nutritional Facts: Serving Size 100g Amount Per Serving Calories 364 % Daily Value Total Fat 6.48g 10% Saturated Fat 1.48g 7% Cholesterol 0mg 0% Sodium 4mg 0.2% Total Carbohydrate 63g 21% Dietary Fiber 6.12g 24% Sugar 1.5g Protein 13.26g 27% Vitamin A 0% Vitamin C 7% Calcium 14% Iron 37% Percent daily values are based on a 2,000 calories diet.
Origin: India
---