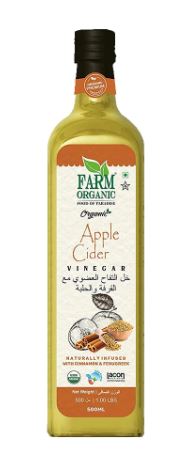 ---
Expiration Date: 2024-09-30
---
Weight: 500 ml
Product Description: Helps in controlling Blood Sugar, Blood Pressure, Cholesterol levels and skin health Helps in enhancing immunity to fight diseases, relieve heartburn, constipation, improving overall digestion.
Consuming Apple cider vinegar promotes weight loss. before having meals increases insulin sensitivity of the body. It is alkaline and helps to maintain the pH balance of the body, Helps to kill worms in the stomach, dissolves kidney stones, and boosts immunity, Our Apple Vinegar drink can help you feel full faster, which can aid in weight loss. Helps to prevent stomach cramps, bloating & gas.
Nutritional Facts: Serving Size 15ML 33 Serving Per Container Calories 7.7 % Daily Value Total Fat 0g 0% Saturated Fat 0g 0% Cholesterol 0 mg 0% Sodium 0mg 0% Total Carbohydrate 1.89g 0% Dietary Fiber 0mg 0% Sugar 0g Protein 0.04g 0% Vitamin A 0% Vitamin C 0% Calcium 0% Iron 0% Percent daily values are based on a 2,000 calories diet.
Origin: India
---