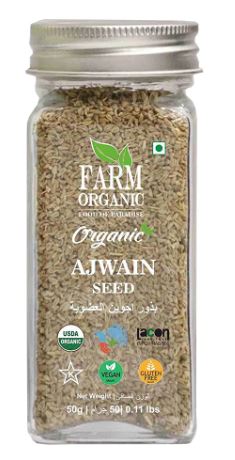 ---
Expiration Date: 2024-07-31
---
Weight: 50 grams
Product Description: Active enzymes in ajwain improve the flow of stomach acids, which can help to relieve indigestion, bloating, and gas. The plant can also help to treat peptic ulcers as well as sores in the esophagus, stomach, and intestines.
Ajwain, ajowan, or Trachyspermum ammi—also known as ajowan caraway, omam podi, thymol seeds, bishop's weed, or carom—is an annual herb in the family Apiaceae. Both the leaves and the seed‑like fruit of the plant are consumed by humans. The name "bishop's weed" also is a common name for other plants.
Nutritional Facts: Portion Size 100g Amount Per Protein Calories 238 % Daily Value Total Fat g N/A Saturated Fat 0.6g 3% Total Carbohydrate 48g 17% Dietary Fiber 48g 171% Sugar 0g Protein N/A Calcium 667mg 51% Iron 16mg 89% Potassium 1333mg 28% The % Daily Value tells you how much a nutrient in a serving of food contributes to a daily diet. 

Origin: India
---