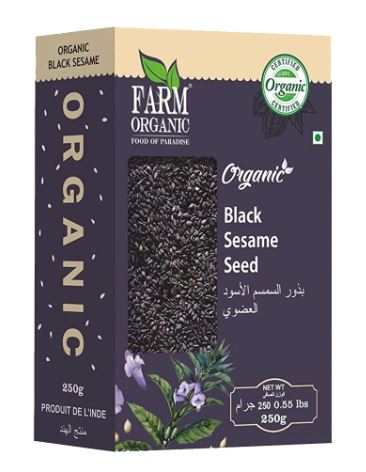 ---
Expiration Date: 2024-10-24
---
Weight: 250 grams
Product Description: Black sesame seeds are an especially rich source of macro-mineral and trace minerals. our body requires trace minerals only in a small amount. Black sesame seeds are rich in antioxidants. Regular eating of black sesame seeds could reduce oxidation.
Organic Black Sesame seeds are incredibly versatile when it comes to their culinary uses. Then can easily be sprinkled onto salads, vegetables, noodles, and rice dishes. Regularly eating black sesame seeds reduces oxidation in the body, improves blood pressure, and provides antioxidants.
Nutritional Facts: Serving Size 100g % Daily Value Total Fat 47.2gg 79% Saturated Fat 7.0g 35% Cholesterol 0mg 0% Sodium 4mgmg 0% Total Carbohydrates 21.6g 7% Dietary Fiber 6.12g 24% Sugar 0mg Protein 18.1g 30% Vitamin A 0% Vitamin C 7% Calcium 1456mg Iron 37% Percent daily values are based on a 2,000 calories diet.
Origin: India
---