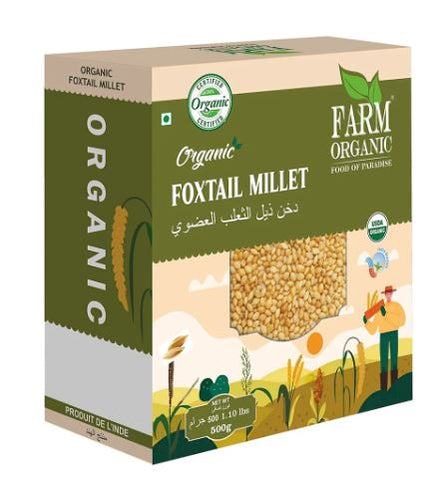 ---
Expiration Date: 2024-10-24
---
Weight: 500 grams
Product Description: Foxtail millet like other millets is a powerhouse of nutrition. Rich in Vitamin B12, these tiny seeds can offer you a daily dose of ample protein, good fat, carbs, and amazing dietary fiber content. Besides copious amounts of lysine, thiamine, iron.
Foxtail Millet is rich in Vitamin B12 which is essential for maintaining a healthy heart, smooth functioning of the nervous system, and in general good for skin and hair growth. A diet including Foxtail Millet may improve glycemic control and reduce insulin, cholesterol, and fasting glucose in Type-2 diabetes.
Nutritional Facts: Serving Size 100g Amount Per Serving Calories 393 Total Fat 5g 8% Saturate Fat 2g 10g Cholesterol 0mg 0% Sodium 0mg 0% Total Carbohydrate 74g 25% Dietary Fiber 9g 36% Sugar 0g Protein 12g 24% Potassium 5.6% Calcium 18mg 1.8% Iron 22.2% Percent daily values are based on a 2,000 calories diet. Your daily values may be higher or lower depending on your calorie needs.
Origin: India
---