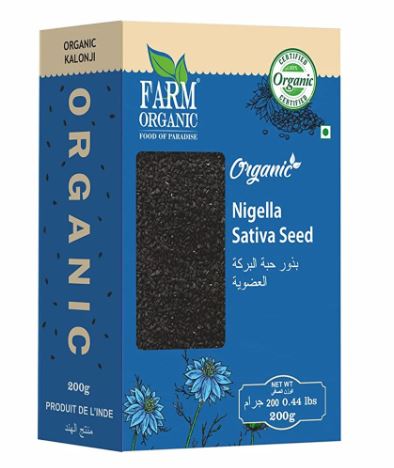 ---
Expiration Date: 2024-10-24
---
Weight: 200 grams
Product Description: Nigella Seeds are indigenous to the Mediterranean region through West Asia to northern India and have been domesticated. These irregular shaped, small black seeds are whole or ground, and are a popular spice in North India, Iran, Lebanon, and turkey for bread and vegetables. Nigella seeds are known as black seeds onion seeds, Roman coriander, or black cumin seed.
Daily consumption of nigella seeds enhances lubrication between joints, maintaining a healthy heart, fighting breathing problems and prevents cancer, thanks to its anti-carcinogenic properties. It Content essential vitamins A, C, and K.
Nutritional Facts: Serving Size 100g Serving Per Amount Calories 345 Total Fat 15g 23% Saturates Fat 0.5g 2% Cholesterol 0mg 0% Sodium 88mg 3% Total Carbohydrates 52g 17% Dietary Fiber 40g 160% Sugar 3g Protein 16g 32% Vitamin A 0% Vitamin C 35% Calcium 119% Iron 102% Percent daily values are based on a 2,000 calories diet.
Origin: India
---