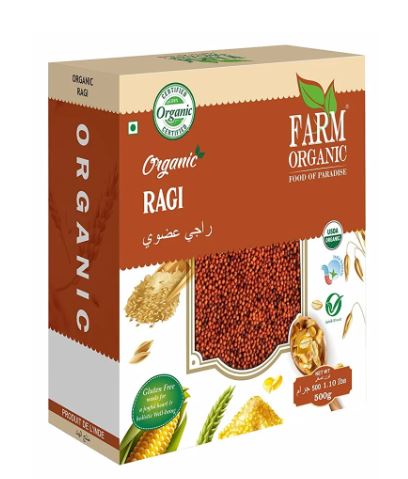 ---
Expiration Date: 2025-02-15
---
Weight: 500 grams
Product Description: Organic ragi is known as finger millet all over the world. And ragi is one of the oldest cultivated millet in India. It is rich in antioxidants, vitamins, and minerals. It exhibits anti-diabetic, anti-microbial, and anti ulcerative properties.
Eleusine coracana or finger millet, also known as ragi in India, and Kudo in Nepal, is an annual plant widely grown as a cereal crop in the arid and semiarid areas in Africa And Asia. Ragi is a whole grain that is gluten-free and a staple in South India, It is rich in fiber that helps with weight loss and diabetes. It is packed with calcium, good carbs, Ammino acids calcium, and iron.
Nutritional Facts: Serving Size 100g Serving Per Amount Calories 336 % Daily Value Total Fat 1.89g 3% Saturates Fat 0.48g 2% Cholesterol 0mg 0% Sodium 9.22mg 0.4% Total Carbohydrates 72g 24% Dietary Fiber 3.29g 13% Sugar 0g Protein 7.56g Vitamin A 0% Vitamin C 7% Calcium 32 % Iron 18%.
Origin: India
---