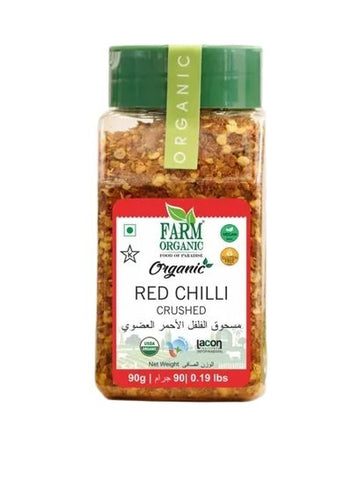 ---
Expiration Date: 2024-09-30
---
Weight: 45 grams
Product Description Farm Organic red chill work a great deal to spice up our meals. Indian cuisine is known to contain a generous amount of spice, which not only makes the food taste better but also provides many health benefits. Loaded with essential minerals.

Organic red pepper or red pepper flakes is a condiment or spice consisting of dried and crushed as opposed to ground red chili peppers. This condiment is most often produced from cayenne- type peppers although commercial producers may use a variety of different cultivars,  Often there is a high ratio of seeds, which are erroneously believed to contain the most spice. Crushed red pepper is in pickling blends, chowders, spaghetti sauce, soups, and sausage.
It can add a little spice to otherwise boring soups, sandwiches, and salads. On cruciferous vegetables. Kale is a great vehicle for crushed red pepper. ..For making homemade hot sauce. If your crushed red pepper is hot enough, you can use it to make a decent hot sauce.

Nutritional Facts: Serving Size 100g Amount Per Serving Calories 282 % Daily Value Total Fat 14g 21% Saturated Fat 2.5g 12% Cholesterol 0mg 0% Sodium 1640mg 68% Total Carbohydrate 50g 16% Dietary Fiber 35g 140% Sugar 7g Protein 13g 26% vitamin a 593% Calcium 33% Iron 96% Potassium 51% The % Daily Value tells you how much a nutrient in a serving of food contributes to a daily diet. 2,000 calories.
Origin: India
---