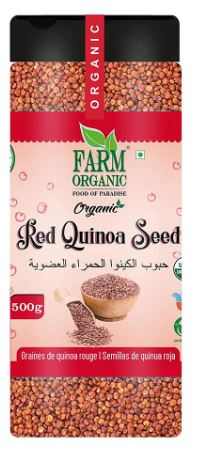 ---
Expiration Date: 2024-02-29
---
1 Piece = 500 grams
Red quinoa is considered a complete protein, as it provides all nine essential amino acids. It's also a good source of fiber, antioxidants, and many minerals. Red quinoa is higher in antioxidants than many other varieties of quinoa. 
Red Quinoa is a nutritious whole - grain grown at 12,000 feet above sea level using the traditional farming methods perfected thousands of years ago. It can be used as a delicious side dish, pilaf, or stuffing and it blends wonderfully in Salad, soup, and stews. These tiny seeds are packed with a nutty flavor and are a perfect addition to your daily meal. Key point is that quinoa is remarkably dense in nutrients and worth including in your diet.
Nutritional Facts: Serving Size 100g Amount Per Serving Calories 120 % Daily Value Total Fat 1.9g 3% Saturated Fat 0.2g 1% Cholesterol 0mg 0% Sodium 7mg 0% Total Carbohydrate 21.6g 7% Dietary Fiber 2.8g 11% Sugar 0g Calcium 16.9mg 1.3% Protein 4.4g 8.8% Iron 1.49mg 8.3 Potassium 171mg 5% Vitamin D 0% Percent daily values are based on a 2,000 calories diet. 
Origin: India
---