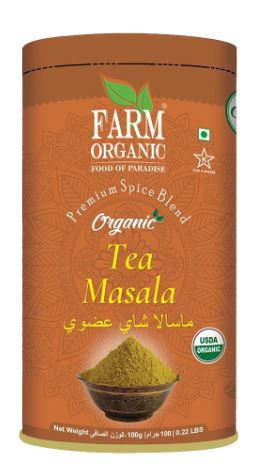 ---
Expiration Date: 2024-09-30
---
Weight: 100 grams
Product Description: Many spices are used in the making of this beverage, commonly called masala chai, with the most prominent one being ginger. As a result, masala tea has strong anti-inflammatory properties and a positive impact on ginger on the masala tea.
Masala chai is an Indian tea beverage made by boiling black tea in milk and water with a mixture of aromatic herbs and spices like organic green cardamom, cloves, black pepper, cinnamon, fennel, dry ginger, and tulsi. Originating in India the beverage has gained worldwide popularity, becoming a feature in many coffee and tea houses.

Nutritional Facts: Serving Size 100g Amount Per Serving Calories 29 % Daily Value Total Fat 0g 0% Saturated Fat 0g 0% Cholesterol 1 mg 0% Sodium 27mg 1% Total Carbohydrate 6g 2% Dietary Fiber 1g 45 Sugar 4g Calcium 0mg 8% Protein 2 g 0% Calcium 0mg 8% Protein 2g 0% Iron 2% Vitamin C 1%.
Origin: India

---