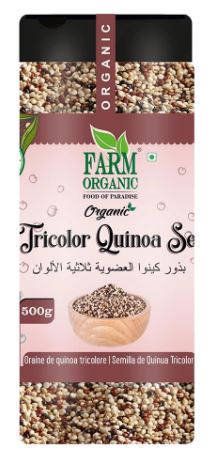 ---
Expiration Date: 2024-06-30
---
Weight:  500 grams
Product Description: Organic Tri-colored Quinoa is a good source of fiber and iron. Because it contains essential amino acids, cooked quinoa is a delicious source of plant-based protein. It also offers fatty acids like alpha-linolenic acid as well as antioxidants.
Tri-color Quinoa is a blend of organic white, black and red quinoa, with a nutty flavor and a fluffy, crunchy texture. Quinoa is an ideal addition to a vegan or gluten-free diet, bringing iron, fiber , and complete protein to the table.
Nutritional Facts: Serving Size 100g Amount Per Serving Calories 380 % Daily Value Total Fat 5.6g 9% Saturated Fat 0.7g 3% Cholesterol 0mg 0% Sodium 9mg 0% Total Carbohydrate 71.7g 24% Dietary Fiber 11.2g 45% Sugar 0g Calcium 59g 4.5% Protein 13.4g 28% Iron 4.4mg 24% Potassium 448mg 13% Vitamin D 0% Percent daily values are based on a 2,000 calories diet.
Origin: India
---