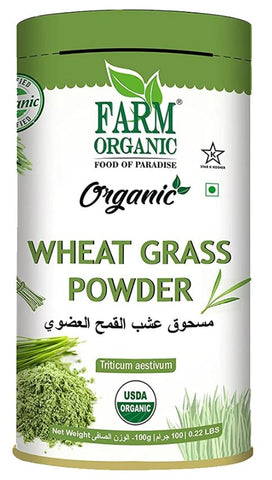 ---
Expiration Date: 2024-09-30
---
Weight: 100 grams
Product Description: Our gluten-free wheatgrass powder is produced and packaged organically; as a result, it is free of flavourings and sugars. It gives you several advantages including boosting your immune system and revitalising your body. Natural wheatgrass from our farm is utilised to make the powder. Additionally, it is harvested on the eighth day (it has a timeline of 12–15 days), when the chlorophyll concentration is at its highest. As a consequence, wheatgrass has a lot of advantages for you. This aids in achieving the finest results for one's fitness and health.
Organic wheatgrass powder is an effective superfood. Multipurpose - It can give you energy and boost your immune system given multiple health benefits. Wheatgrass powder is 100% organic and has amazing health benefits.
Nutritional Facts Serving Size 1tsp 2g Amount Per Serving Calories 7 % Daily Value Total Fat 0.1g 0% Saturated Fat 0g 0% Cholesterol 0mg 0% Sodium 1mg 0% Total Carbohydrate 1g 0% Dietary Fiber 0g 0% Sugar 0g Calcium 0mg 0% Protein 0.4g 1% Iron 0% Vitamin A 0% The % Daily Value tells you how much a nutrient in a serving of food contributes to a daily diet.

Origin: India
---