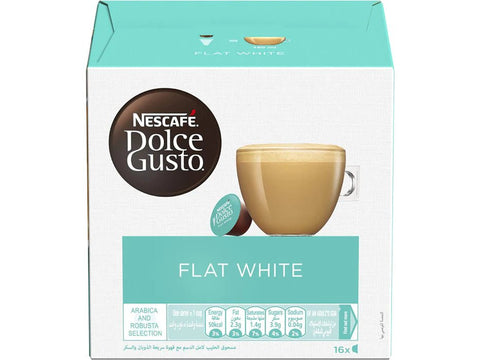 ---
Expiration Date: 2024-07-30
---
Weight:  (16x6.3g) 100.8g
Product Description: Elegant, rich and full of great flavour, Dolce Gusto capsules provide a smooth cup of coffee every time.
Born in the stylish coffee shops of Australia and New Zealand, the Flat White earns its reputation thanks to the fine velvety milk so skillfully prepared by baristas and then carefully poured into a bold Espresso, creating the drink's uniquely mellow texture and marbled nutty-colored foam. Discover our creamy Flat White in the comfort your home and fall for its delicious sweet, caramelly taste. WORLD-CLASS PREMIUM COFFEE ORIGINS Our coffee creators have designed applied a medium-high roasting to the intense coffee blend, so that it expertly combines with whole milk to obtain a creamy & velvety textured cup. PROFESSIONAL QUALITY COFFEE SYSTEM Create professional quality beverages with a thick velvety crema, thanks to the machine's high pressure (up to 15 bars). AROMA FRESHNESS PROTECTION With our hermetically sealed capsules, which preserve product freshness, you'll enjoy rich aromatic cups every time. EASY TO PREPARE Slide a single Flat White capsule into your NESCAFÉ® Dolce Gusto® machine and prepare your perfect Flat White right away. OVER 19 COFFEE CREATIONS Take your pick from over 19 high quality coffee creations: choose from our range of intense espressos, smooth cappuccinos, aromatic Grandes, even hot chocolate, teas, and many more. Each box contains 16 coffee capsules and allows you to prepare 16 cups (180ml) of Flat White.
Ingredients: Whole Milk Powder (74%), Soluble Coffee (14%), Sugar (13%), Stabilizers (Dipotassium Phosphate and Trisodium Citrate), Emulsifier (Soya Lecithin).
---