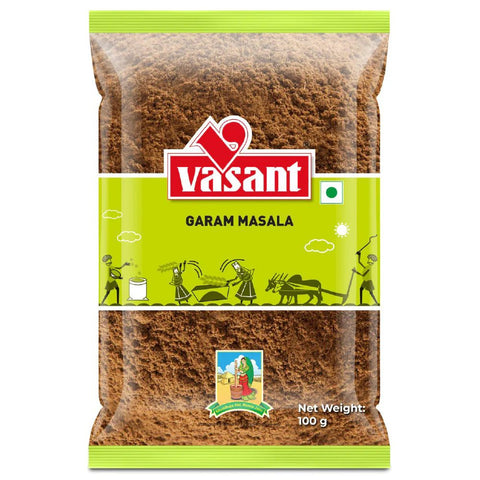 ---
Expiration Date: 2025-07-01
---
Weight: 100g
Product Description:
High-quality coriander seeds, chilli, cassia leaves, kothgal, cumin, black pepper, anistar, fennel seeds, cassia, turmeric, stone flower, big cardamom, nutmeg, clove, mace, cardamom, black salt
Specialty
Made from a balance of 17 spices, Vasant Garam Masala is unique on its own. It gives a mild flavour to the food dishes and yet enhances their taste. Processed in neatly maintained hygienic conditions, Vasant Garam Masala is 100% pure. Moreover, it lends numerous health benefits as well.

How to use:
Use a teaspoon of Vasant Garam Masala in sabjis, dal, and namkeen you prepare and enjoy a dash of wholesome flavour.

About the Spice:
Garam Masala is a popular Indian spice blend that is used in almost every Indian household. It contains several fresh aromatic spices, which are roasted in specific quantities and then ground into fine powder to bring out the flavours. Garam Masala Powder is the heart of Indian food because of its strong zest that gives a punch of strong flavour to Indian cuisine.
Garam Masala Powder not only adds flavour to your dish, but it also has loads of health benefits. The warming spice present in Garam Masala Powder makes it easier for the body to process food. Moreover, every single spice of Garam Masala brings its own distinct set of nutrients, minerals, and compounds, which provides several health benefits.

Buy the best quality Garam Masala Powder from our online masala store.

Health Benefits of Garam Masala:
Lowers Blood Cholesterol
Reduces Inflammation
Slows Down Aging Process
Good for Teeth
Rich in Vitamins & Minerals
Provides Strong Antioxidants
---