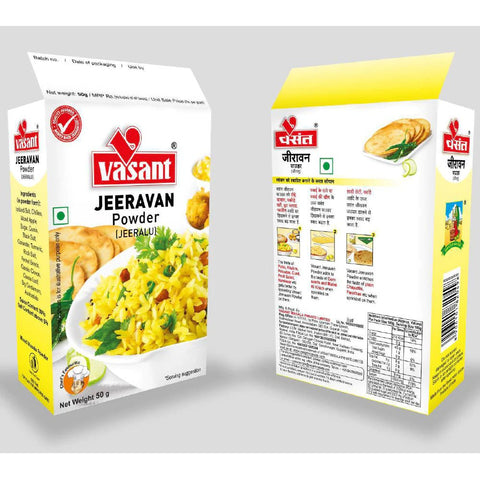 ---
Expiration Date: 2025-07-01
---
Weight: 50g
Product Description: Red Chilli Powder, Iodized Salt, Fenugreek, Mustard Oil, Mustard, Turmeric Powder and Asafoetida
Jeeravan Masala Description
Vasant Masala not only adds goodness to your main course, it also sprinkles deliciousness onto your snacks. Vasant Jeeravan Powder is one of those masalas that give poha, pakoda, dahi-vada, khakhra and other snacks a refreshing taste. More so, its fresh aroma adds zest to the buttermilk

If you are looking for a way to spice up your morning poha, you should try out the Jeeravan Powder. It is a special spice mix from Indore and is a very famous taste enhancer. It is widely used in making indori poha. Jeeravan masala spice mix is known to elevate the humble poha to an entirely different level. This spice mix so versatile that it is now used to enhance any regular dish- from salads and Indian curries to pakodas.
You can find ready-made Jeeravan powder online or at your nearby grocery store. And don't worry about any preservatives or artificial colouring or flavouring agents- Vasant Masala's Jeeravan Powder is made with fresh & authentic spices.
Buy the best quality Jeeravan Powder from our online masala store.

Recipe
...
1. The taste of poha, khakhra, pakodas, curd, fruit salad, namkeen, etc. get better by sprinkling Vasant Jeeravan Powder on them.
...
2. Vasant Jeeravan Powder adds to the taste of corn seeds and makai ki khich when sprinkled on them.
...
3. Vasant Jeeravan powder enriches the taste of plain chapattis, parathas, etc. when sprinkled on them.

---