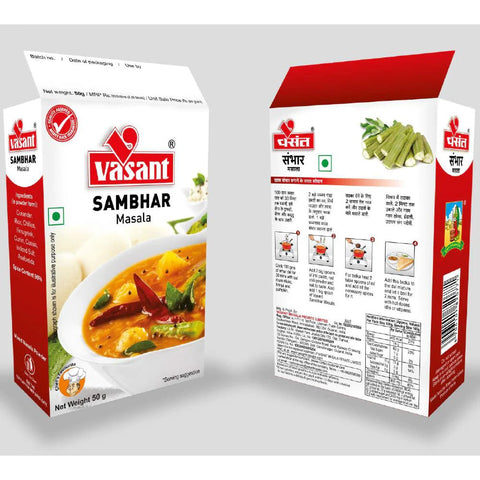 ---
Expiration Date: 2025-07-01
---
Weight: 50g
Product Description: India is known for its regional delicacies and generally one has to visit the place to experience the authentic taste. But with Vasant Sambhar Masala, relish the real South Indian taste at the comfort of your home. Sambhar made with Vasant Sambhar Masala deliciously complements idli, dosa and other South Indian dishes.

Coriander, Rice, Chillies, Fenugreek, Cumin, Iodized Salt, Cinnamon, Asafoetida

About the Spice Blend:

There will always be debate about Sambhar and Sambar, but one thing is certain that it is loved by all. It is a staple in every South Indian dish. And all the flavours and zest of Sambhar come down to Sambhar Masala. A good fine powder of Sambhar Masala is the main ingredient that adds aroma and taste to the dish.

Each state in the South has its own version of Sambhar, but one staple thing in all that is a good flavourful Sambhar spice mix. When you buy Sambhar Masala make sure you store it in air-tight containers as it can lose its flavour quite fast, and we don't want that right?? The Sambhar Masala by Vasant Masala comes in an air-tight container that makes storing process much easier for you.
---