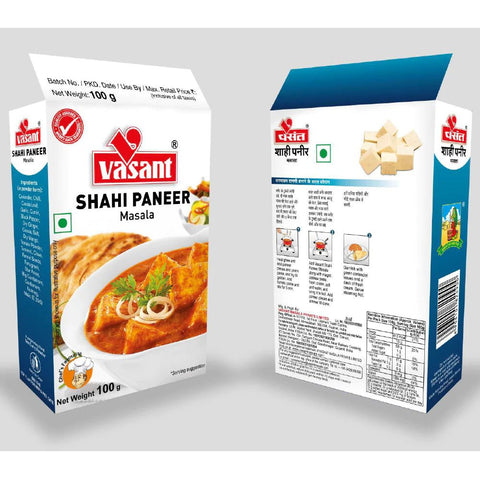 ---
Expiration Date: 2025-07-01
---
Weight: 100g
Product Description: We manufacture premium quality Vasant Shahi Paneer Masala by blending a wide variety of natural and unadulterated spices. This especially formulated spice blend has properties that give extra mouth watering, robust & smooth flavor with just a perfect mix of spices. These products have perfect compositions of various spices. These are best to be used for gourmet flavoring products.

Coriander, Chilli, Cassia Leaves, Clove Leaves, Garlic, Black Paper, Dry Ginger, Dry Mango, Tomato Powder, Salt, Turmeric, Fennel Seeds, Fenugreek, Clove, Star Anise, Big Cardamom, Cardamom, Nutmeg, Malic.

Who does not like the delicious, rich & creamy Shahi Paneer?? Well, we all love to order Shahi Paneer at restaurants; it is a predominant dish at Indian restaurants. But we cannot have a fine dine at a restaurant every time we crave some creamy restaurant-style Shahi Paneer, right.

So, we at Vasant Masala have come with the Shahi Paneer Masala Powder, which will give your Shahi Paneer gravy a restaurant-like taste.
This exquisite dish was originated from the royal kitchen of Mughal and was originally meat-based & later was made with paneer. Just like other Mughlai food, it is also made with nuts, cream or yogurt, and spices. This classic North Indian dish is everyone's favourite for a reason.
Now you can make Shahi Paneer at your home using Vasant Masala's Shahi Paneer spice blend.



Recipe:
Add 1 table spoon vasant Shahi paneer masala with other spices to mutter paneer, mixed vegetables or any such dish.Add a little water to your dish and let it cook for a while. Garnish with green coriander leaves and a dash of fresh cream. Serve steaming hot.
---